Day 1 :
Keynote Forum
ELZA Institute, Switzerland
Time : 10:05-10:35

Biography:
Farhad Hafezi is a professor of
ophthalmolog
y at the University of Geneva and University of Southern California. Hafezi serves as the chief medical officer of the ELZA Institute in Zurich, Switzerland. Hafezi has been cited 4,700 times, an impact factor of 436, and an h--index of 35.Hafezi's clinical expertise includes
corneal diseases
, dystrophies and degenerations as well as complication management related to
refractive surgery
. His research is dedicated to understanding corneal diseases, especially ocular cell biology. Hafezi is internationally recognized as a corneal cross--linking (CXL) pioneer for treating keratoconus and translating CXL principles into new applications like infection control.
Abstract:
Retina & Retinal Disorders|Corneal Diseases
Chair
Ronni M Lieberman
New York City Health and Hospitals Corporation, USA
Session Introduction
New York City Health and Hospitals Corporation
Time : 11:55-12:20

Biography:
Ronni M Lieberman has received her Medical training at SUNY Downstate in New York, where she also completed her
Ophthalmology
Residency. She then went on to complete a 2 year Surgical Retina Fellowship at Mount Sinai Medical Center in New York. She is the Director of Medical Retina Services for the Queens Hospital Network, an HHC affiliate. She has published extensively, participated in clinical trials and is involved in the training of ophthalmology residents in the HHC and at
Mount Sinai Medical Center
.
Abstract:
The purpose is to describe the long-term outcomes of
intravitreal bevacizumab
(IVB) for the treatment of
pediatric retinal and choroidal diseases
. We performed a retrospective analysis of all pediatric patients receiving IVB at our HHC facilities for retinal and choroidal disease. We analyzed the data for visual acuity, stabilization of disease process and central macular thickness for 1 year. Safety data (adverse events) were analyzed. All eyes receiving IVB for the following were included in this analysis: Sickle cell retinopathy, Coats disease, familial exudative vitreoretinopathy (FEVR), SRNM (secondary to trauma, myopia) and CME secondary to uveitis of various etiologies. IVB was used both as a primary treatment and in combination with other options. Patients receiving IVB for
ROP
were analyzed separately. Patients receiving IVB for pediatric retinal and choroidal disease tolerated the treatment well. Most patients experienced significant improvement or stabilization of vision but long term safety concerns still remains.
National Institute for Mother and Child Health, Romania
Time : 12:20-12:45
Biography:
Cristina Nitulescu has been involved in the Romanian National
Retinopathy of Prematurity
(ROP) Program since 2012, and from the beginning she realized that the premature babies' destiny can be changed with a better care and a good screening program. She organized the first National ROP Symposium in 2015 for neonatologists, nurses and
ophthalmologists
, supported by the
International Agency for Prevention of Blindness
(IAPB) and the Romanian Society of Ophthalmology, to improve the children's care and the results of
ROP
screening and treatment. She coordinates a new project, supported by IAPB, to mentor four ROP Excellence Regional Centers across the country, to provide support for a better collaboration at regional level and for the effective implementation of the ROP guidelines. It is mandatory that the health providers to be aware about ROP prevention, the mainstay of health care through the world.
Abstract:
Statement of the Problem:
Retinopathy of prematurity
(ROP) is the leading cause of childhood blindness in the world, but ROP detected and treated early is one of the most cost-effective preventions in all of medicine.
Purpose: Analysis of challenges and gaps in ROP National Program in Romania.
Methodology & Theoretical Orientation:
In Romania the treatment of threshold ROP is based on the international classifying criteria for ROP (
International Classification of Retinopathy of Prematurity
) and on the results of the Early Treatment for Retinopathy of Prematurity Study – ETROP. There are few ROP cases presented with different treatment approaches for "threshold stage"- laser therapy, intra-ocular injection with Bevacizumab (Avastin), vitreoretinal surgery, alone or combined the evolution after treatment, as well as the reasons for unfavorable result in some cases.
Findings: The disease completely regressed after treatment for all the babies screened and treated in time. All the babies who progressed to retinal detachment were referred too late for screening. The standard of neonatal care is critical with respect to the risk of ROP.
Conclusion & Significance:
The most important step in treating ROP is a good screening program. Laser therapy is the "gold" standard treatment for threshold ROP. Intra-ocular injection with Avastin is a therapeutic option for aggressive cases and for sick infants. We need a pediatric vitreoretinal surgery unit in Romania. In Romania, there is need more
ophthalmologists
specialized for ROP screening. The lack of screeners is opening doors to telemedicine, to ensure that every child at risk receives effective screening and treatment. The results of the screening program depend on a large measure on a good collaboration with neonatologists,
pediatricians
and parents.
S.S. institute of Medical Sciences & Research Centre SSIMS & RC, India
Time : 12:45-13:10
Biography:
Ashutosh Patel have completed his Medical degree (M.B.B.S.) in February 2013 at the Manipal University, Karnataka India. He had joined S.S. Institute of medical sciences & research centre, Davangere, India as junior resident in dept. of Ophthalmology in June 2015 & currently he working in the dept. of ophthalmology. He had presented a paper titled as "iris claw lens-an alternative treatment modality for monocular aphakia" at national conference in February 2017, Jaipur, India. He had also presented two posters titled as "A rare presentation of ocular tuberculosis- a case report" and "
retinopathy
changes in an anaemic patients with diabetes mellitus" at national conference. He had submitted his paper titled as "incidence & associated symptoms of convergence insufficiency among general population" to a index journal titled as "
Ophthalmology and Allied sciences
(OAS)". His paper has been selected for publication In OAS VOL.3 NO.2 JUL-DEC 2017.
Abstract:
Statement of the Problem:
Retinopathy of prematurity (ROP) is a potentially blinding eye disorder of childhood that primarily affects premature infants weighing 1250 grams or less, born before 31 weeks of gestation. ROP is vasoproliferative eye disorder characterized by abnormal vascular development of retina. Various other risk factors also contribute. The purpose of this study is to describe the incidence of ROP in various
neonate intensive care units
(NICU) and obtain information about risk factors associated with ROP and treatment modalities.
Methodology & Theoretical Orientation:
Premature infant born at 36 weeks of gestation or younger or 2000 grams or smaller, were screened for ROP. 1350 babies were screened between October 2012 and March 2016. Screening was done with RETCAM and indirect
ophthalmoscope
using 28D volk lens under topical anesthesia and those requiring treatment were given laser treatment. All the babies were followed up till 40 weeks of corrected gestation or until retina matured and further follow up continued for those with ROP until resolved.
Findings:
In 1350 premature neonates,
ROP
was detected in 248 infants. Most of the babies were in the range of 26-34 weeks of gestation age at birth. Total 74 infants had pre threshold ROP, out of which 49 infants had Type 1 or high risk pre threshold ROP and were given laser treatment. Remaining 25 infants had Type 2 or low risk pre threshold ROP and were followed weekly.
Recommendation: Gestational age and low birth weight were the most significant risk factors for development of ROP, thus screening those with more than 1.5 kg and gestational age up to 36 weeks need to be considered.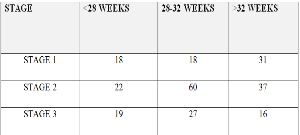 Biography:
Cosimo Mazzotta has done his MD from School of Medicine, University of Siena, Italy in the year 1997. He did a Specialist Diploma in Ophthalmology in 2001 and has received his PhD in Ocular Pathology in 2006. He introduced the Corneal Cross Linking in Italy in 2004 being awarded by the
Italian Society of Ophthalmology
. In 2009, he became the Assistant Professor of Corneal Surgery at Optometry School of University of Siena, Italy. Currently, he is an Assistant Professor of Corneal Pathology and Surgery at Post-graduate Ophthalmology School of Siena University and Director of the Siena International Crosslinking Center. His areas of interest include corneal cross-linking,
keratoconus
,
corneal transplants
,
corneal dystrophies
,
cataract and refractive surgery
, and
in vivo confocal microscopy
.
Abstract:
Purpose:
To assess
keratoconus
(KC) progression in pediatric patients with allergies who tested positive to surface matrix metalloproteinase 9 (MMP-9) point-of-care tests versus negative patients.
Methods:
Prospective comparative study including 100 stage I-II
keratoconic
patients, mean age 15. All patients underwent an anamnestic questionnaire for concomitant allergic diseases and were screened with the MMP-9 point-of-care test. Patients were divided into 2 groups: KC patients with allergies (KC AL) and KC patients without allergies (KC NAL). Severity of allergy was established by papillary sub-tarsal response grade (PSR) and
keratoconus
progression assessed by corneal tomography, and
corrected distance visual acuity
(CDVA) measurement in a 12-month follow-up.
Results:
The KC AL group included 52 patients and the KC NAL group 48. In the KC AL group 42/52 of patients (81%) were positive to MMP-9 point-of-care test vs. 2 positive patients in the KC NAL group (4%). The KC AL group data showed a statistically significant decrease of average CDVA, from 0.155±1.1 to 0.301±1.2 log MAR (p<0.005) at 12 months; K max value increased significantly, from 50.2 D±2.7 to 55.2 D±1.9 on average. The KC NAL group revealed a slight
keratoconus
progression without statistically significant changes. Person's correlation test showed a high correlation between K max worsening and severity of PRG in the KC AL group.
Conclusions:
The study demonstrated a statistically significant progression of KC in pediatric patients with concomitant allergies, positive to MMP-9 point-of-care test vs. negative. A high correlation between severity of allergy and
keratoconus
progression was documented.
Beirut Eye Specialist Hospital, Lebanon
Time : 14:10-14:35

Biography:
Elias F Jarade, MD. is the director of the
Corneal
,
External Disease
, and
Refractive Surgery
Services at
Beirut Eye Specialist Hospital
. Dr. Elias is a graduate of Harvard Medical School with 2 certificates of fellowship in cornea and refractive surgery from the
Eye Center and Eye Foundation for Research
, and The Massachusetts Eye and Ear Infirmary, Harvard Medical School. Dr. Elias is heavily involved in the practice and research of
cornea
,
cataract
,
refractive surgery
for the past 15 years with main interest in keratoconus. Has to his record more than 50 peer reviewed scientific papers and chapters. Also, presenter and invited faculty in the field of cornea and refractive surgery at international meetings. Board member for the "
Journal of Refractive Surgery
" "
International Journal of Ophthalmology
", "
International Advisory Board for the Saudi Journal of Ophthalmology
", Founder-general secretary of the Emirates Cornea and Refractive Surgery (ECRS) club, Guest editor for the "
Journal of Ophthalmology
"
Abstract:
Aim:
To evaluate the safety and visual outcome of
intracorneal ring segment
(ICRS) implantation followed by crosslinking in pediatric keratoconus patients.
Method: This retrospective study included pediatric patients (≤14 years) with keratoconus and poor corrected distance visual acuity (CDVA) that underwent ICRS implantation and crosslinking (CXL). ICRS were inserted under topical anesthesia after creating a corneal tunnel with an IntraLase femtosecond laser. Crosslinking was performed after one month subsequently. Records were reviewed and data were collected preoperatively, at 6 months, at 1 year, 2 years and 4 years postoperatively. Additionally, an 8-year follow-up of a 9-year old patient with ICRS implantation is reported, but is not included into the statistical analysis, since CXL was performed only 7 years later. For this patient ICRS were inserted manually under general anesthesia.
Results:
12 patients (17 eyes; 10 males, 2 females) aged 9-14 years (mean age 12.3 years) received ICRS implantation followed by CXL. Follow-up times ranged from 6 months to 8 years after surgery. At the 6-month follow-up, all eyes were evaluated, at the 1-year, the 2-year and the 4-year follow-up 11, 10 and 7 eyes were evaluated, respectively. At the 6-month follow-up, mean CDVA in comparison to preoperative levels improved significantly (p=0.001) from 0.300.19logMAR to 0.120.1logMAR, mean uncorrected distance visual acuity (UDVA) also improved significantly from 0.900.50logMAR to 0.430.31logMAR. A significant decrease in both
keratometry readings
and
spherical equivalence
(from -4.0 D to -1.56 D) was also noted after ICRS insertion. At the 1-year, the 2-year and the 4-year follow-up refractive values remained relatively stable in comparison to the 6-month follow-up, except for a minor but significant improvement in cylinder and, at 4 years, in UDVA. The patient with the 8-year follow-up also showed visual improvement and a stable cornea. All patients tolerated the surgery well and no intraoperative or postoperative complications were reported, except for one ring segment that had to be removed after two years due to vascularization and
corneal
thinning.
Conclusion:
ICRS implantation is a safe and effective procedure for visual rehabilitation in children with
keratoconus
and poor CDVA.
Pediatric Ophthalmology & Research | Pediatric Optometry

Chair
Bruce H Koffler
Koffler Vision Group, USA
Session Introduction
Boston Children's Hospital - Harvard University, USA
Time : 10:30-11:10

Biography:
Danielle M Ledoux is a
Pediatric Ophthalmologist
, specializing in management of pediatric patients with a diagnosis of Down syndrome. She has been working at the
Boston Children's Hospital
- Harvard University since 2007. In 2015, she completed her specialized in Pediatric Eye Care, a practice of
pediatric ophthalmology and optometry
in Massachusetts, USA. She has participated in significant numbers of studies both prospective and retrospective with special interest in those that pertain to the population of people with a diagnosis of Down syndrome. She also serves as a Consultant for the National Down Syndrome Society, an American non-profit organization dedicated to support of people and families as well as education of the public about Down syndrome.
Abstract:
Purpose:
There is an increased incidence of acquired
strabismus
in the Down syndrome population, more commonly resulting in esotropia than other deviations. We performed a retrospective chart review of the Down syndrome population with esotropia who had
strabismus
surgery to better understand the types of esotropia seen and the surgical outcomes.
Methods:
We performed a seven year (2007–2014) retrospective chart review of all patients with a diagnosis of Down syndrome who had surgery for
strabismus
at a single, tertiary care center. Data including indications for surgery, preoperative and postoperative sensorimotor exam, presence of anomalous head posture, and type of surgery were recorded. Postoperative exam was at least one month after surgery. Surgical success was defined using three criteria: 1) orthotropia to an esotropia of less than, or equal to 8 prism diopters in primary position, 2) improvement of anomalous head posture, and 3) no further indication for surgery.
Results:
16 patients were identified who had Down syndrome and were surgically treated for
esotropia
. Of these, one was excluded due to follow-up of only two weeks. Preoperative findings of the remaining 15 patients included 8 (53%) with an A-pattern, 1 (7%) with a V-pattern, 1 (7%) with a head tilt dependent esotropia, 2 (13%) who had no assessment of pattern, and 3 (20%) with no pattern to the esotropia. Anomalous head postures were appreciated in 5 (33%) patients preoperatively, resolved in 4 patients postoperatively, and persisted in 1. In addition, 2 other patients had anomalous head postures only appreciated postoperatively. Of the 8 patients with an A-pattern esotropia, 4 were treated with only a bilateral medial rectus recession, 3 (75%) of who required a second surgery. Ultimately, 7 of the 8 patients achieved successful surgical outcomes. Overall surgical success in this study was 87% (13/15). Two patients were deemed surgical failures due to persistence of anomalous head posture and esotropia.
Conclusions:
Surgical success was achieved in 87% of patients with Down syndrome and esotropia. We identified an increased incidence of A-pattern strabismus in the Down syndrome population, a finding not previously noted. All the three patients who required reoperation had A-patterns that were not addressed at the time of surgery. Ultimately, 88% of patients with A-pattern
strabismus
achieved successful surgical outcomes. Recognition of patterns preoperatively may help guide the surgical plan.
Koffler Vision Group, USA
Time : 15:00-15:25

Biography:
Abstract:
Myopia
is an epidemic affecting an increasing portion of the worldwide population. In Asian countries, studies now show 80-90% of young teenagers have myopia, and in the USA the number of affected children has risen from 25 to 40% in the last 15 years.
Ophthalmologists
are now getting more involved in trying to slow the progression in a child by intervening early with a number of treatments that have been found to be effective. These included the use of
atropine drops
,
bifocal glasses and contacts
, increasing outdoor activity, and the use of orthokeratology molding lenses. The author will discuss the current understanding of why these lenses work and review the current literature. Most studies using this technique show a 35-50% reduction in axial length over a 2-5 year period.
Camposampiero Hospital, Italy
Time : 15:25-15:50

Biography:
Anna Laura Giacomin has completed her Medical degree in 1986 at the Padua University. She has joined as the Ophthalmological Specialist at the Padua University in 1991. In 1996, she joined in the Ophthalmology Unit of the Camposampiero PD Civil Hospital, responsible for the Ophthalmoplastic Service. She has obtained Homeopathy clinic course and in 2011, Master 2° level in Ophthalmoplastic Surgery from Naples Federico II University. From 2005, she is a full Member of the European Society of Ophthalmic Plastic and Reconstructive Surgery.
Abstract:
Introduction:
Retinopathy of prematurity
(ROP) can lead to blindness due to
retinal detachment
, but also premature infants with a normal apparent retina can develop subnormal
visual acuity
. Foveal depression and inner retinal layers develop mainly before the 40 week of gestational age (GA), while outer retinal layers develop mainly post birth. The purpose of our study was to correlate inner and outer foveal structural alterations with visual function and to correlate these alterations with GA, body weight (BW), and stage of ROP in preterm infants with ROP regressed spontaneously or after laser treatment.
Methods:
Thirty eyes of 15 premature children aged 4 to 9 years with previous ROP underwent a complete ophthalmological and orthoptic evaluation, spectral domain
OCT
and angio-OCT (Canon OCT-HS100). The parameters evaluated with SDOCT in the fovea were: Total retinal thickness, inner retinal layers thickness, Henle's layer thickness, outer nuclear layer thickness, external limiting membrane integrity, ellipsoid zone and outer segment tips zone integrity. Foveal avascular zone and foveal intra-retinal vascular plexus were evaluated with ANGIO-OCT. Other parameters evaluated were:
Best corrected visual acuity
(BCVA), refraction after cycloplegia. 10 eyes of 5 normal term children served as controls.
Results: Total central foveal thickness, inner retinal layer thickness, Henle's layer thickness are significantly higher compared to term children. Outer nuclear layer thickness is lower compared to term children. Impaired visual function is correlated to impaired outer retinal layers structure. These changes are correlated to GA, BW, and stage of ROP.
Conclusions: A correct macular development at birth period is crucial for normal visual function. An impaired foveal cell migration and development can lead to a subnormal visual function in children with history of ROP. Further studies are necessary to understand the causes of foveal structure changes in preterms and the influence of macular edema of prematurity.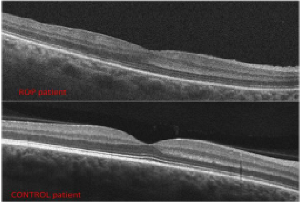 University of L'Aquila, Italy
Time : 16:10-16:35
Biography:
Abstract:
Materials & Methods:
12 patients, ranging in age from 10 to 45 years (median age 25.9), 9 males and 3 females with
nystagmus and low vision
: 5 cases with congenital nystagmus, 3 with albinism, 3 with congenital cataract (treated surgically) and 1 case with multiple sclerosis were studied. Each patient underwent a
comprehensive ophthalmic examination
, including measurement of visual acuity (BCVA) using LogMar ETDRS charts, contrast sensitivity using the FACT TEST. Moreover we carried out a reading speed test, an examination of the
Extra Ocular Movement
(EOM), a Cover Test at near and distance (CT), Stereopsis (arc/sec) and a biomicroscopy of the posterior segment. Each patient followed a rehabilitation protocol including the administration of two questionnaires (GH-12 and SF-36) before and after treatment in order to measure self-esteem, role limitations due to physical functioning, social functioning and mental health. Neurovisual rehabilitation training sessions, both individual and customized, lasting about 35 minutes each with either eyes opened in order to train the cerebral cortex by means of contrast stimulus with decreasing size (Gabor Patch) were done. The treatment program consisted of 50 sessions to be administered to the patient on alternate days (at least three times a week) for a total of about 100 days.
Conclusion & Significance:
At the end of the treatment, all patients reported subjective improvement in their vision. The functional training using RevitalVision, therefore, appears to be a promising therapy for the functional visual enhancement also in patients with a high
visual impairment
.
Sidra Medical and Research Center, Qatar
Time : 16:35-17:00
Biography:
Angela Malik is an
Optometrist
who graduated in 1991 from the University of Waterloo, Canada. Her expertise lies in the field of
Pediatric Contact Lenses and Low Vision
. She has years of clinical and teaching experience, both in private practice and in hospital settings. She has set up the
pediatric contact lens optometry
service in two leading hospitals in the Middle East. She currently practices at Sidra Medical and Research Center, Doha.
Abstract:
Contact lenses
have a variety of applications in the management of corneal pathology,
amblyopia and refractive error
for the pediatric population. A vast range of contact lenses are available but choosing the correct lens for complex pediatric fittings poses significant challenges. The techniques for fitting these complex cases will be discussed as well as methodologies for the clinician to recognize the applications where lenses would be a more beneficial treatment option. Visual improvement may be achieved with contact lenses, but it is not the only role that such devices play.
Moorfields Eye Hospital Dubai, UAE
Time : 17:00-17:25
Biography:
Abstract:
Ectopia lentis
is the displacement of natural lens of the eye. It can occur after trauma or could be a sign of serious systemic disease. In children, developmental or hereditary systemic conditions like Marfan syndrome, homocystinuria, Ehlers- Danlos syndrome, most commonly and hyperglycemia, sulphite oxidase deficiency, simple primary ectopia lentis and congenital aniridia syndrome less commonly among others, cause lens subluxation. When lens is displaced anteriorly it results in narrowing of the anterior chamber angle and pupillary block leading to either acute or chronic angle closure glaucoma. Posterior dislocation of the lens can lead to vitreous traction on the
retina
causing retinal detachment or with leaking lens proteins into the vitreous cavity can cause chronic vitritis and chorioretinal inflammation. Partial subluxation with more than two third zonular supports can be managed with appropriate
spectacle
or
contact lens correction
. Visually significant lens subluxation causes irregular astigmatism and lenticular myopia leading to significant anisometropic amblyopia. Surgical management of ectopia lentis involves number of challenges and options. With the refinement of surgical techniques and adjunctive capsular devices and
intraocular lenses
, the clinical outcomes for children under going surgical management for ectopia lentis have improved greatly. Lensectomy within the bag with limbal approach is considered safe and effective in children. Intra-scleral fixation of IOL haptics or the newer designs of iris supported
IOLs
have been reported with good results. The purpose of our study is to report a series of children who underwent surgery for visually significant subluxated lenses. We measured visual acuity, refractive error and recorded complications in children after insertion of Artisan iris-claw implants. In conclusion, iris-claw lenses are safe and effective method of treating aphakia after in the bag lensectomy, in children with ectopia lentis.
University Eye Clinic, Macedonia
Biography:
Abstract:
Material & Methods:
72 children from 6 – 15 years old, that have complained of
blurred vision
and/or
headages
, loss of comprehension after short periods of reading or performing close activities were examined at the
University Eye Clinic in Skopje
. The ocular and orthoptic examinations were done and it was found that 26 of them have
convergence of insufficiency
. Were it was necessasry, we gave them spectacle correction. In all diagnosted patient with CI we gave the orthoptic exercises.
Results: After the treatment of the convergence insufficiency by orthoptic procedures, between the great numbers of patients above symptoms were reduced or disappeared.
Conclusion:
Convergence insufficiency
disorder frequently goes undetected in school age children. Standard
ophthalmic
and orthopic examination will enable detection of this binocular disorder. Convergence insufficiency can be successfully managed and it will allow these patients more comfortable and better quality of life.